Government SRTC inter-state bus travel updates
During the announcement of 3.0, the Central government had issued guidelines for allowing movement of goods & passengers across the state borders without any restriction. Since then few bus services have started operations within and across the state borders. Here are the latest updates on SRTC bus services after the announcement of unlock 4.0 relaxations.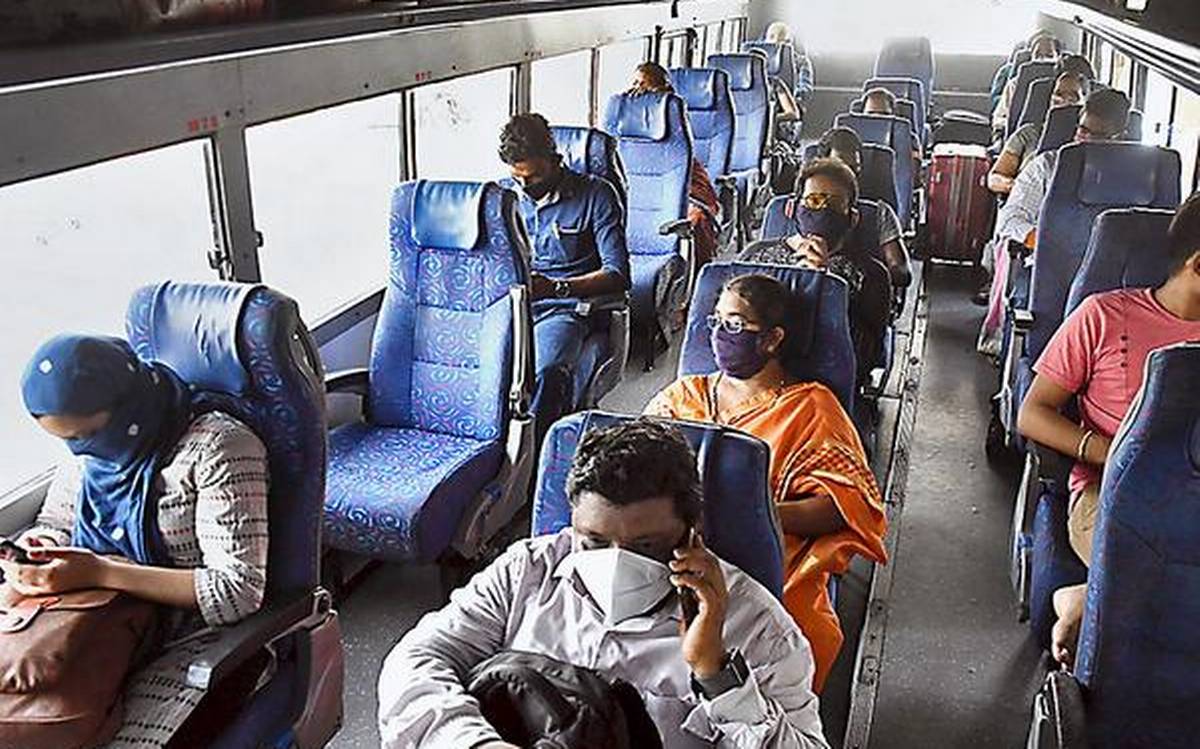 APSRTC:Started on May 21, APSRTC started operating within the state to Chittoor, Madanapalli, Tirupathi, Kadapa, Anantapur(AP), Vijayawada, Nellore, Nandyala,Bhimavaram,Cumbum (Andhra Pradesh), Rajahmundry,Rajamahendravaram,Rajamundry (By-Pass),Markapuram,Kunta – Markapuram, Proddatur, Atmakur Nellore, Pileru, Visakhapatnam, Adoni, Kakinada, Srikalahasthi, Srikakulam, Kanigiri, Kurnool, Bobbili, Ongole, Giddalur, Tanuku, Kavali, Guntur, Guntakal, Hindupur, Amalapuram, Pulivendula, Macherla,Puttaparthi, Machilipatnam,Chilakaluripet,razole. Vijayawada & Vizag have been favourite destinations within the AP. Karnataka is the first state to open borders to APSRTC buses for inter-state bus travel to various cities including Bangalore, Mysuru & Hubli.
TSRTC:Started on May 19th, TSRTC has limited its operations only within the Telangana state. Currently, buses operate to Kothagudem, Hyderabad, Madhira, Bhadrachalam, Khammam, Hanmakonda, Godavarikhani, Kagaznagar, Mancherial, Sathupalli, Yellandu, adilabad, koutala, Bellampally, Bhupalpally, Asifabad, Manuguru, Mangapet, adilabad,Jannaram,bayyaram,rajupet,kazipet, Warangal.
Since Hyderabad to Vijayawada is the most popular bus travel route between AP & TS, many private bus operators have started services from 1st Sep 2020.
KSRTC: On 18th May 2020, Karnataka State Road Transport Corporation (KSRTC) started its operations within the state.As lockdown restriction started to ease, KSRTC has started bus services to neighbouring states Andhra Pradesh & Kerala. As of Sep 2020, passengers can travel from Bangalore to Vijaywada by booking either APSRTC bus ticket or KSRTC bus ticket. Between Karnataka & Kerala, passengers can travel from Kochi, Ernakulum to Bangalore and Mysuru by booking Kerala RTC bus tickets online.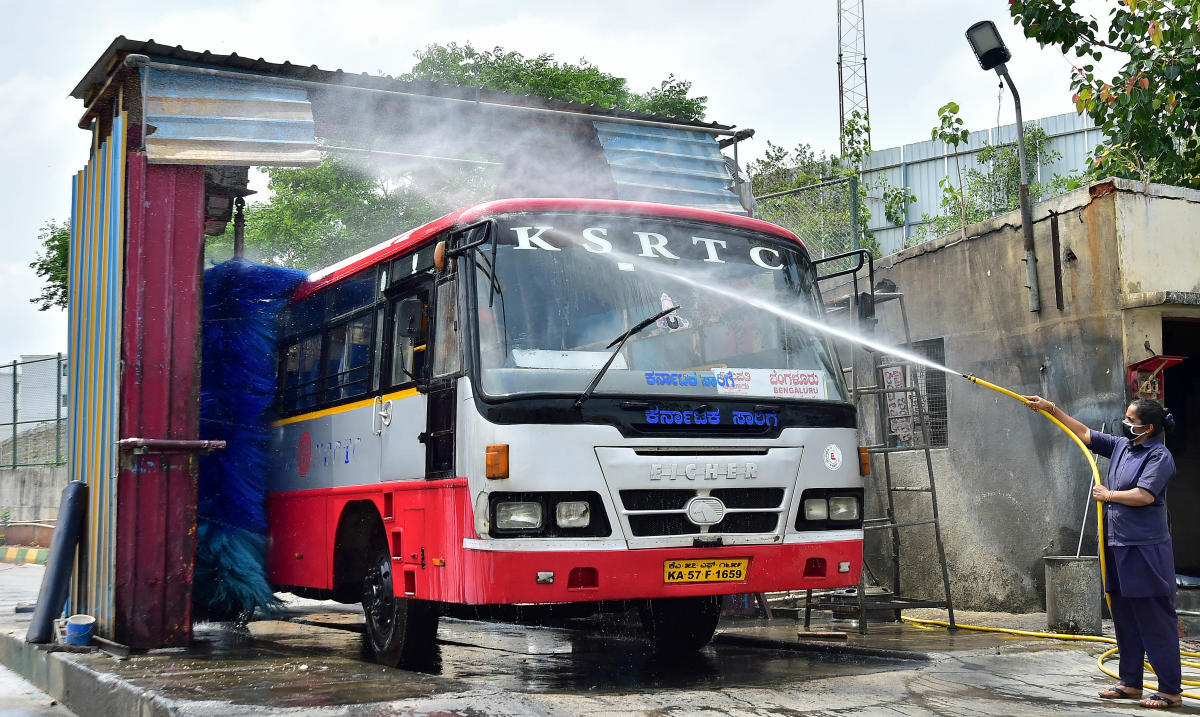 Kerala RTC:Starting 25 Jun 2020, Kerala state road transport has started bus operation on a demand basis. By mid-August, Kerala RTC has started bus services to Karnataka state considering ONAM festival travel demand. Currently, passengers can travel Kochi, Trivandrum, Ernakulum, Kasargod cities in Kerala to Bengaluru and Mysuru in Karnataka.
TNSTC: Tamilnadu has been cautious about allowing bus travel since the announcement of Unlock 3.0. Only from Sep 2020, Tamil Nadu State Transport Corporation has allowed movement of buses within the state. Currently, buses are operating in Chennai, Tiruvallur, Kancheepuram, Trichy, Thanjavur, Madurai, Karur, Ariyalur and Namakkal districts. TNSTC has requested Puducherry to allow buses in order to reach other districts of Tamilnadu.
MSRTC: Having the highest number of COVID positive cases, Maharashtra has been cautious about allowing passenger movement. Maharashtra State Road Transport Corporation has started inter-district bus services from 20 Aug 2020. All MSRTC buses, including normal, semi-luxury, Shivshahi and Shivneri have started operating within the Maharashtra State. Currently, on the inter-state travel, passenger can book tickets to Gujarat and Telangana by booking MSRTC bus tickets online. The inter-state bus operational routes of MSRTC are Dhule to Surat, Aurangabad to Nizamabad, Aurangabad to Surat. Based on the demand, MSRTC will start bus services from Pune to Gujarat.
BSRTC: Bihar State Road Transport Corporation has allowed bus travel from July 1st 2020, however once again it was stopped on 16th July 2020 citing the increased COVID cases in the state. After a lockdown of 1 month, bus services resumed in Bihar from August 25th provided few assurances given by bus owners including sanitizing and clean their vehicles after each trip. The bus staff to wear clean clothes, masks and gloves. Currently, BSRTC buses are running inter-state buses to Uttar Pradesh(UP) and Delhi. Two popular interstate bus routes are Lucknow to Patna and Delhi to Hajipur.
GSRTC: Gujarat State Road Transport Corporation has started intra-state bus operations from 31 st May 2020 with 50% seating capacity. Travel has begun between Ahmedabad, Surat, Vapi, Rajkot, Junagadh, Jamnagar and Bhavnagar cities of Gujarat. It is unclear when GSRTC will start services to Neighbouring states. Currently, private operators are serving few popular inter-state routes like Amedabad-Mumbai(Panvel) and Surat-Mumbai to Maharashtra while few operators started servicing buses from Gujarat to Indore in Madhya Pradesh.
It is clearly evident that government SRTCs have started operations based on interstate travel demand and passenger safety. We are expecting a complete relaxation by October 2020 since Dussehra and Diwali are the biggest festive celebrations in India. Meanwhile, Private bus operators started catering to the growing demand for interstate bus travel. Some of the popular bus routes which are currently served by private bus operators are Hyderabad to Vijayawada, Hyderabad to Bangalore, Bangalore to Goa, Hyderabad to Mumbai, Bangalore to Vijayawada.